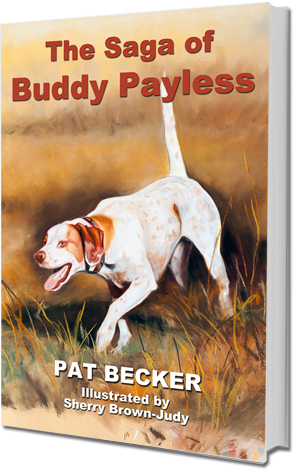 The Saga Of Buddy Payless
A cocky, young English Pointer destined for greatness in the world of quail hunting has little tolerance or interest in others—whether human or his own dog companions. But on his way to stardom in the world of game dogs, the talented bird dog suffers a cruel setback at the hands of heartless dog thieves. The little pointer learns to care about more than himself as he tries to make sense of a new world where he is no longer in control of his fate. Can he find his way back to the familiar world of quail hunting, caring owners, and trusty companions? Or will he wander in life, never fulfilling his destiny as a champion sports dog?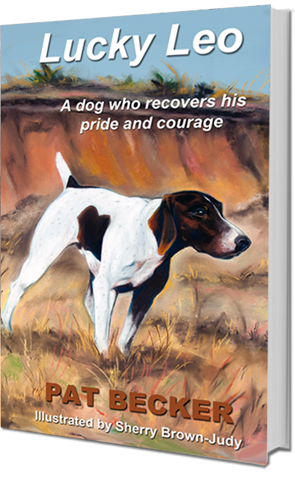 Lucky Leo
Once a proud and independent game dog, a German Shorthaired Pointer finds himself abandoned by his owner. Surviving as best he can, the desperate sporting dog finds his way to caring people who are determined to help the unfortunate animal. Leo's new human friends hope to find the dog a caring owner where Leo can give and receive affection. The well-meaning rescuers, however, are in no position to keep Leo. So who will provide a permanent home for this pointer, whose rare hunting skills are unknown to his new human friends? Will the newly named Leo fulfill his promise and regain his pride and courage as a hunter?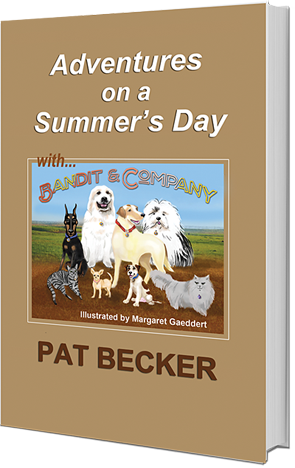 Adventures on a Summers Day
With her usual imaginative flair, Pat Becker brings to life this new series about a band of pet dogs and cats and their adventures in a loving home in an ideal setting. Readers of all ages will smile within when they recognize the human qualities the author has imbued in all these animals. And the interaction of these pets as they experience their various adventures will undoubtedly connect with discerning readers. The stunning color illustrations by artist Margaret Gaeddert add greatly to the character development and narrative. … Readers can look forward to more entertaining and heartwarming stories about these animal characters, as this is the first of an illustrated series about the lives and adventures of the band of dogs and cats known as… Bandit and Company.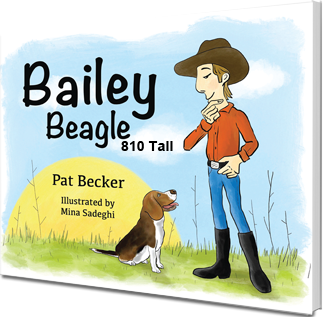 Bailey Beagle
This cleverly written story poem reminds all pet owners how their beloved animals insinuate themselves into their owners' hearts. In this narrative, a soft-hearted keeper of a stray beagle named Bailey has no long-term plans to keep this visitor, but Bailey has set his heart on sticking around. The reader can just about figure out how this difference in plans will turn out—especially with a smart, cute dog like Bailey Beagle. This tale of Bailey conquering the heart of his reluctant owner is aptly illustrated by Oklahoma artist/illustrator Mina Sadeghi, a frequent collaborator on other Pat Becker works.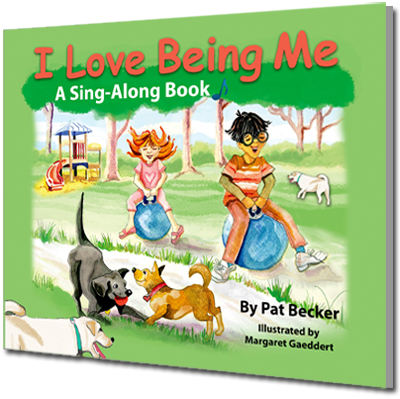 I Love Being Me Audiobook
This is singalong audio from the book of the same name by Pat Becker. For kids and dog lovers of all ages. CATCHY TUNE! Children of all ages will enjoy singing these positive lyrics and viewing these delightful illustrations. This multi-media entertainment package can be enjoyed by groups large or small, or even by a child alone.
Because every dog has a story…
Author Pat Becker has a career that has spanned movies, television, and radio. She produced and hosted the award-winning series "The World of Dogs" for the Public Broadcasting Service. Currently, Pat produces and hosts the live television show "Dog Talk" on KAUT Channel 43 in Oklahoma City. Dog ownership and its responsibility have been an ongoing project and passion for the active owner of a variety of dogs.
She and her husband, Jim, have rescued numerous dogs, and all have become a part of their household. Her book, The Search for Paradise, is a story about just two of their fortunate pets and working dogs. As a dog trainer and pet advocate, the author promotes public involvement with municipal law enforcement and lawmakers to defend animals from harmful exploitation. She also works to convince pet owners of the importance of spaying and neutering and stays active in a number of animal rescue and care organizations. Pat believes strongly in the moral responsibility for giving pets quality of life as opposed to mere existence. Furnishing food and water in the back yard with a shelter does not ensure this quality, the author maintains.
She promotes interactive dog sports as a way for dog owners to add quality to their pets' lives. Pat maintains that children's involvement with their dogs' activities provides healthy exercise for the kids and instills in them a sense of responsibility as pet owners.